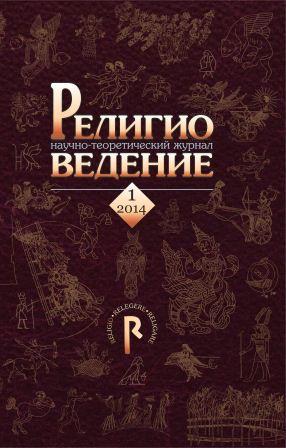 The journal "Religiovedenie" [Study of Religion] has been published since 2001.
"Religiovedenie" is a scientific and theoretical peer-reviewed journal summarizing the results of Russian and international studies in the field of history, anthropology, sociology, psychology, phenomenology and philosophy of religion, as well as in the history of religious studies. The journal publishes articles and analytical reviews based on original research results.
"Religiovedenie" is aimed at a professional audience, as well as a wide range of readers interested in the modern religious situation, theories and methods of studying religion and the results of research in various fields of the study of religion.
"Religiovedenie" is a quarterly issue.
The Journal is included in the list of the leading refereed academic journals and periodicals recommended by the Higher Attestation Committee at the Ministry of Education and Science of the Russian Federation, assigned for publication of the key results of candidate and doctoral dissertations (including the both Russian doctoral degrees: the PhD and the Doctor of Philosophy).
The journal is available on the resource: eLIBRARY.ru and is included in the Russian Science Citation Index Science Index.
The journal is registered by the Ministry of the Russian Federation for Press, Broadcasting and Mass Media.
Certificate PI No. 77-79-73 dated 05/14/2001.
ISSN 2072-8662 (print).
The journal is published in conjunction with Association for Russian Centers for the Religious Studies, which is a member association of the International Association for the History of Religions.
The journal is published by the Editorial and Publishing Department of the Amur State University. The opinion of the Editorial Board may not coincide with the position of the authors of the articles.
Founder and publisher: Federal State Budget Educational Institution of Higher Education "The Amur State University" (FSBEI HE "AmSU").
Address: 21 Ignatievskoe shosse, Blagoveshchensk, Amur region, Russia, 675027
Phones: +7 (4162) 234598, +7 (4162) 234684
E-mail: This email address is being protected from spambots. You need JavaScript enabled to view it.
Website: https://www.amursu.ru/